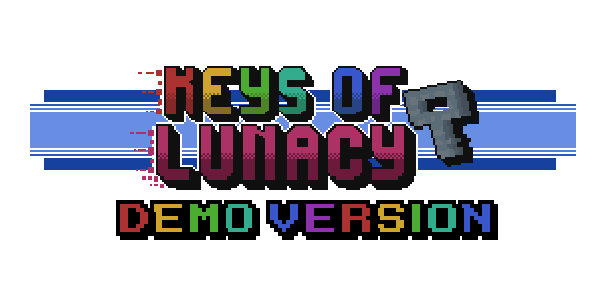 Keys Of Lunacy (Demo)
== Descrição em Português ==
Keys Of Lunacy VERSÃO DEMO:

Essa é a versão de demonstração do Keys Of Lunacy, e contém algumas fases do modo aventura, com diversos cenários repletos de monstros malucos para você esmagar usando seu bom e fiel martelo.
O game se trata de um personagem preso em um videogame, e para voltar para casa, ele vai ter que enfrentar uma horda de monstros malucos, coletar itens, chaves, e encontrar uma forma de voltar para casa!
O projeto foi desenvolvido inicialmente em 2019, e desde então tenho trabalhado nele no meu tempo livre. Espero que gostem, e sintam-se a vontade para deixar um feedback nos comentários.
== English Description ==
Keys Of Lunacy DEMO VERSION:

This demo is now available for the public, contains a few stages from the adventure mode, a few scenarios filled with a variety of crazy monsters to smash with your powerful mighty hammer.
The game brings a character who fell inside a videogame! Face and battle crazy monsters, collect tools, keys and find your way back home!
The project was initially developed on 2019, and I still working on this one on my free time. Feel free to give a feedback on the comments.
Install instructions
Download includes: The (.exe) game application and a (.txt) manual.
Download
Download
Keys Of Lunacy Demo V1.zip
59 MB